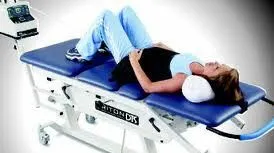 Spinal Decompression Therapy is a non-surgical, traction based treatment outcome for low back (lumbar) and neck (cervical) disc related problems. Anyone who has back, neck, arm or leg pain caused by a degenerated or damaged disc may be helped by spinal decompression. These conditions include herniated or bulging discs, spinal stenosis, sciatica, facet syndrome, spondylosis, degenerated discs, or even failed spinal surgery.
Our office is dedicated to offering the latest, state of the art, conservative treatment for spinal pain disorders and why we chose the FDA cleared system manufactured by the Chattanooga Group. The Triton DTS Traction System is designed and constructed with 25 years of experience in traction therapy combined with a revolutionary belting system designed specifically for quick setup, comfort and effectiveness. With unparalleled design, proven history and Chattanooga Group behind it, the Triton DTS Traction System is the gold standard in Traction Therapy.
Over time, your body suffers from the wear and tear of daily living, as well as the overall effects of gravity. DTS Spinal Decompression Therapy helps to create a negative pressure in your disc (decompression). Decompression is the result of proper positioning and tractioning of your spinal column. DTS Spinal Decompression Therapy is an intuitive approach to help relieve the pain in your back and neck pain.
DTS spinal decompression is so effective because of the award winning computerized traction head. The preprogrammed computer patterns for ramping up and down the amount of distraction eliminates muscle guarding and permits decompression to occur at the disc level.